Just Joined
Hello All:
I just joined because I am smitten with Lace knitting. I started a first time lace project. I spun 4 oz. of Blue Faced Leicester fiber into a laceweight yarn so it could become a Flower Basket Shawl. I am presently doing an endless amount of repeats of the Lower Body.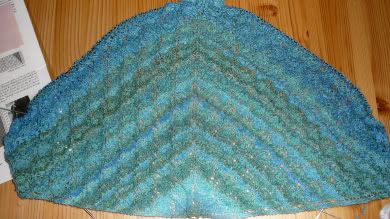 I am trying to use up as much of the yarn as I can, then start the edging. I have no idea how big it will be, but I am enjoying the process. I think I found a new obsession. My goal is to create more laceweight handspun for use on lace knitting projects. I've finished a corriedale/silk cap handspun that may become a Shetland Triangle or Swallowtail. I have gained a lot of inspiration from all you members and I can't wait to see more of your work. Happy knitting.
ETA: You can see the start of my project from the start of my spinning to the present picture
on my blog.
Labels: Flower Basket, Handspun, Shawl