Hello!
Hey all! I just joined. I'm on a lace kick lately so I figured this would be a good place to be. I am working on one shawl now and had two more planned...then I got on this blog and found about ten more I'd like to make lol. This is the one that I'm doing now. It's slow going because I have so many projects going but it's coming along. The pattern is the
Diamond Knit Shawl
from Lion Brand's site. Theirs was big and ugly but I saw someone else make it in smaller gauge, so I decided to do it too.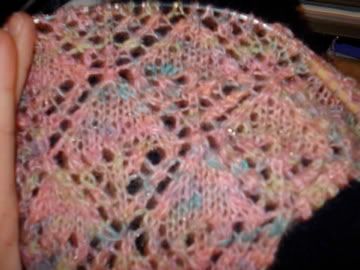 Sorry it's a little blurry, but that's the best I could get right now. It's much prettier in person. Oh and it's got silver thread in it so that's what the white spots are.