evil sheep
I have reached the sheep on teh Sheep Shawl, and am beginning to regret my initial excitement at knitting them.
They are kicking my butt.
Hard core.
So far I have gotten half way through a row, not once, not twice, but THREE TIMES only to discover I messed up a stitch count somewhere at the very beginning and need to tink all the way back.
Did I mention each pattern row takes roughly half an hour to complete now?
My biggest problem is they are not all neat and geometric like the rest of the patterns, so I'm having a more difficult time reading my knitting than I was before, so I don't notice the mistakes sooner.
Le sigh.
Luckily after the first few hellacious rows I'm getting better at reading the knitting and predicting how their little sheepy shapes are formed. Here you can see the leg-less sheep in all their evil splendor.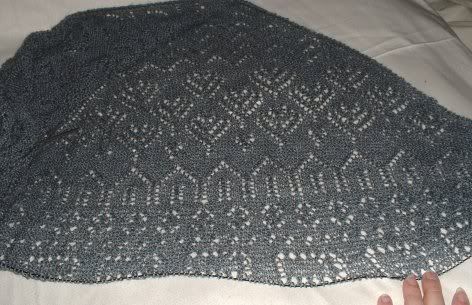 (the shawl is getting quite large and it is becoming more and more difficult to photograph it well.)