Fir Cone Square Shawl
Done in right at 2 weeks (my Olympic knitting), the Fir Cone Square Shawl is finished! Again, the yarn is about 4 ounces of 1/14 cashmere from ColourMartUK in "Everglades" on 3.5mm needles. The cost of the yarn was about $15 - not much more than Zephyr!
A couple of quick pictures (click to make 'em big and useful)-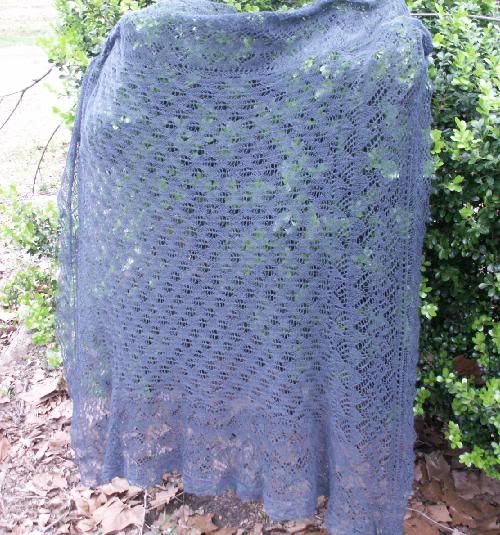 I am amazed at how many different colours I can get out of this yarn. Most things look different depending on the lighting, but wow have I never had something that would go from green to blue to almost black so consistently. Messes with my mind!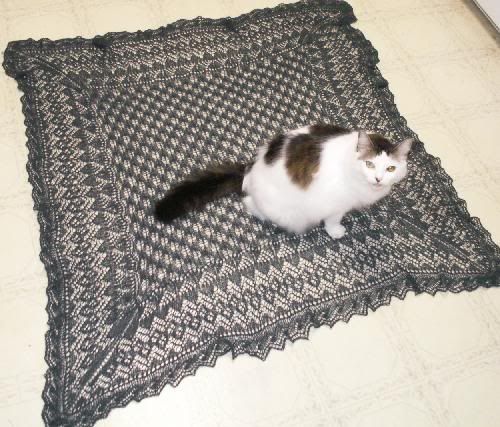 (
Few more Fritty pics here
)
About the yarn - it's oiled for machine knitting, so it needs to be washed. But cashmere is quite delicate, especially when it's as thin as this, so wet blocking is a bit risky. This meant washing it Thursday night, letting it dry, pinning it out in the morning and hope that spritzing will be sufficent blocking. Thankfully it was! (oy that was a lot of commas)
Finished size is, eh, about 50" square. Plenty big.