Pass me a bottle of that Shawlahol!
What can I say, I like shawls, stoles, wraps, and other vague beasties. I have four (!?!) in some state of progress at the moment. In no particular order:
Simple stole in Skacel merino laceweight, currently about 20" (50 cm) x 48" (120 cm). I started this in the middle of December; this picture is from the middle of Feb. , but I've knit only a couple inches since. I'm planning to bind off fairly soon and then find some lace edgings to prettify the sides. Indecisiveness on what to do with it is the main reason for hardly touching it at all for a month.
(The diamonds really are square - well, diamond - but between the camera angle and the poor pinning....)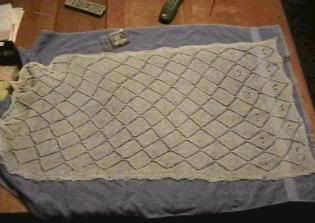 Then there's this wrap made of Lion Kitchen Cotton. Intended for beach purposes only! The needle was only long enough to show half, but it's currently about 40" across the top edge. I haven't knit any on this since... umm... January 22... because it was a dreadful reminder that beach season hadn't arrived yet. Interest in the project will be renewed as the weather warms!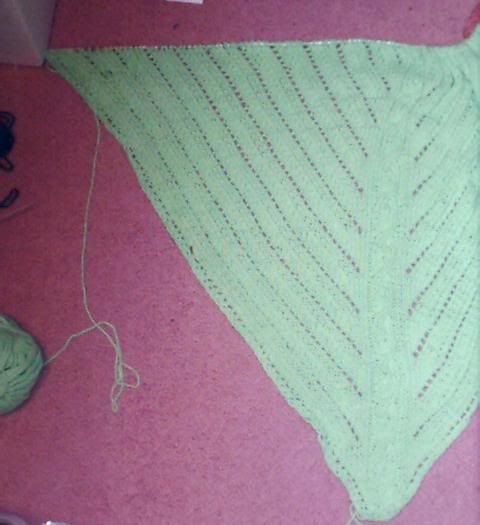 (Those last two are from no particular pattern, but for their simplicity it seems pretentious to say "own design"! Patterns for both will be put on my blog when they're finished, though I'm hardly assuming they're unique enough to warrant a cult following.)
Next is Knitty's
Cozy
, which I started at the end of January. Yarn of choice is Omega Sinfonia, a sportweight mercerised cotton. Almost finished - if I apply myself I could easily have it finished by the end of March - but the newest project has stolen my attention.
Finally, the newest addition to my WIP list - "Farose-style Lace" by Myrna Stahman, from "The Best of Knitter's Shawls and Scarves".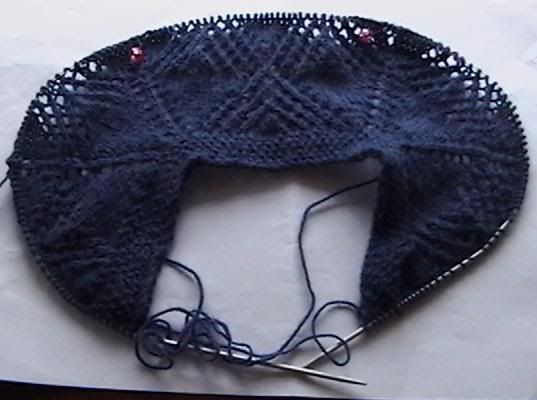 Much after that, there gets to be so many stitches on the needle it gets all bunched up and hard to get a full shot. About 8" into it now... another shot of the lace -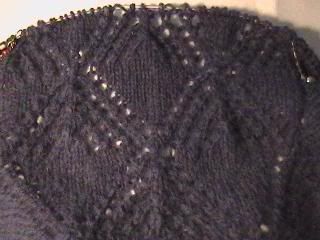 Wow, has this post turned out to be long. Not that I'm any less long-winded on
my blog
. Oh... and pimping a FO from last December!
Madli's shawl
- see, I can finish things in a timely fashion if I don't let myself get distracted... oh look, a butterfly!